Lobster embezzlement
Oh, like you've never tried it.
My beloved scam fam, if you are waltzing into the weekend without federal charges looming over you, allow me to be the first to personally congratulate you. Not all of us have been so lucky.
Last month my friend and #1 source for tasteful A Little Life merch as well as underreported scam news, Oakley, alerted me to a classic lobster embezzlement case up in Maine.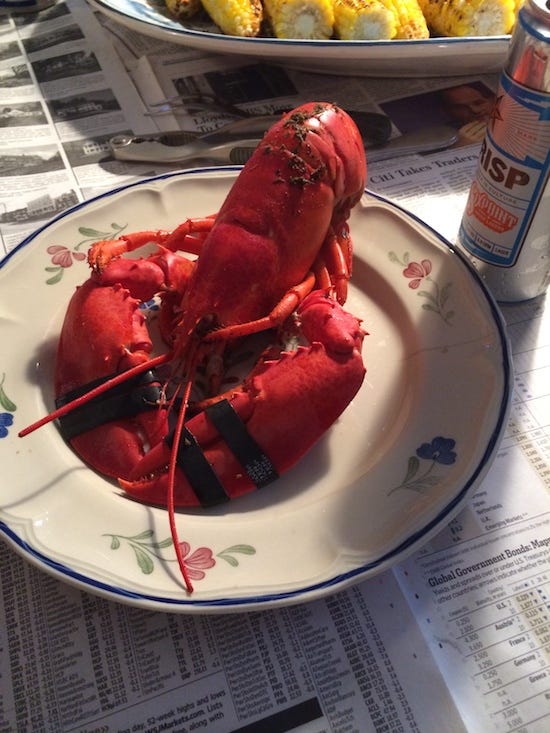 Sext.
As the original lawsuit filed by the owners of a Maine seafood restaurant and wholesaler called Sea Salt Lobster (I read the menu and now if I don't track down whole belly clams within 24 hours I'll probably die) alleges, a gentleman named Matthew Bellerose along with another gentleman named Vincent Mastropasqua set up a pretend customer called Mastro's—I already have some notes—to which they shipped a bunch of lobsters without billing the fake company, only to resell the lobsters. Then they counted their money until the Sea Salt guys counted their money, found a bunch of it missing, and hired a forensic accountant to figure out what was going on.
Edward D. Murphy for the Portland Press Herald, which produces some of the best lobster crime journalism in the nation—this is not their first lobster shipping fraud rodeo—reported some new developments in the story this week. Among them, the lawsuit has moved to federal court and the United Parcel Service (yeah, that's UPS and the claim is basically that UPS's employees should have detected fraud earlier and snitched about it and I hope I don't have to tell you what I think of THAT). Here's the good part, though:
Amanda Bellerose, Matthew Bellerose's wife, is added as a defendant in the federal suit, which claims she was unjustly enriched by her husband's actions.

According to the lawsuit, Amanda Bellerose used the money coming in from the alleged embezzlement to book family vacations to the Bahamas and Florida and to buy "expensive handbags, cars and Rolexes."

The suit says she concocted text messages with Mastropasqua after her husband was fired to make it look as if she and Mastropasqua were not involved in Bellerose's alleged embezzlement and the reselling of lobsters. A Superior Court judge relied on those texts, in large part, in deciding to lift an attachment on Mastropasqua's bank accounts and other holdings before the case was moved to federal court. A similar request by Amanda Bellerose to lift an attachment order – saying that some of the money in a joint account with her husband represents her own assets – is now pending in federal court.
What did the text messages say, you ask? I told you, the Press Herald is ON THIS:
A transcript of a text message exchange between Bellerose and his wife, Amanda Bellerose, includes Amanda Bellerose referring to "innocent people involved, myself and Vinny."

"Vinny is losing his mind, rightfully so. Bad enough I married this mess," she texted, according to the transcript provided by Libby.
If I have one wish for us collectively, it's to be the wives drafting text messages to protect our husbands' business partners' financial interests at the expense of our husbands we want to see in the world.
Obviously, the case is still ongoing, but let me leave you with some resolution in a related matter.
Five years ago I was a passenger in a minivan traveling up the Maine Turnpike where Sea Salt is located. It was around 10 a.m. on a Friday when we all saw a man in a lobster restaurant parking lot—it could have been Sea Salt's for all I know—get slugged in the face by another man while two other men looked on. I think about it all the time. What causes that type of altercation in a lobster restaurant parking lot on a weekday morning? I think we can all agree that that particular case is finally closed: It was definitely lobster embezzlement.
Scam on,
Ruthie
My week in consumption:
Last Saturday I added a new activity to my Coney Island repertoire: Go-Karts. I had a giant clown smile on my face the entire time. They'll be open for two more weekends and you should go if you can.

While we're talking about the beach, I finally read this blog post by my friend Emily about five girls who escaped from a shelter (baby jail) in the 1940s using a nail file and bedsheets and then told a taxi driver they were dressed like shoeless juvenile delinquents because all their clothes got stolen while they were at Coney Island. Em is a genius and someone should make this into a movie.

My taste in music is all kinds of corny, so please know that before you go all in on these borderline novelty tracks I can't get enough of lately: Birding by Swetshop Boys and the Color in Your Cheeks cover by Ibibio Sound Machine.